BOOTS 2 AFRICA - JUST ONE OF OUR CHARITY PARTNERS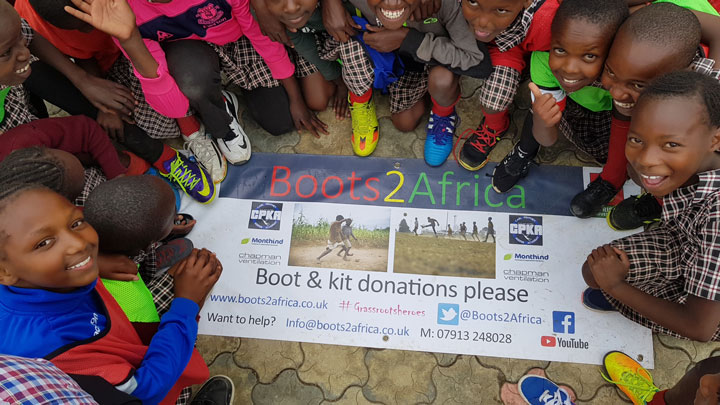 Girls at the charitably funded Walk Centre School in the City of Nakuru, Kenya
THE NEED
Millions of children across Africa, have no shoes, for school, life and playing games.
Disease, infections and snakebites kill thousands and injure and incapacitate many others every year. Many others struggle physically and needlessly because of illness caused from infections of the foot.

THE OPPORTUNITY
Thousands of children in the United Kingdom, Europe and other first world countries, discard their football boots at the end of each playing season.
Most boots are adaptable to life in bush towns and urban settlements. Boots2Africa overheads are met by financial donations and the sale of high quality boots not suitable for use; fundraising events and the sale or raffle of high value 'ex professional' sportswear also contributes to the funding.
"As a micro charity still in our infancy at less than 3 years old, we're naturally delighted to have been chosen as a Charity Partner and look forward to working with Stevensons in the coming months and hopefully years"
- Iain Finch, Co-Founder, Boots2Africa


---


THE SOLUTION
Boots2Africa collects, transports and distributes donated boots to Africa's children and young adults through relief organisations.
---
"Our aim and mission is to recycle and ship 1 million items of preloved and written off boots, trainers and Astros to our carefully chosen benefactors in Africa."
- Iain Finch, Co-Founder, Boots2Africa
---
STEVENSONS SUPPORT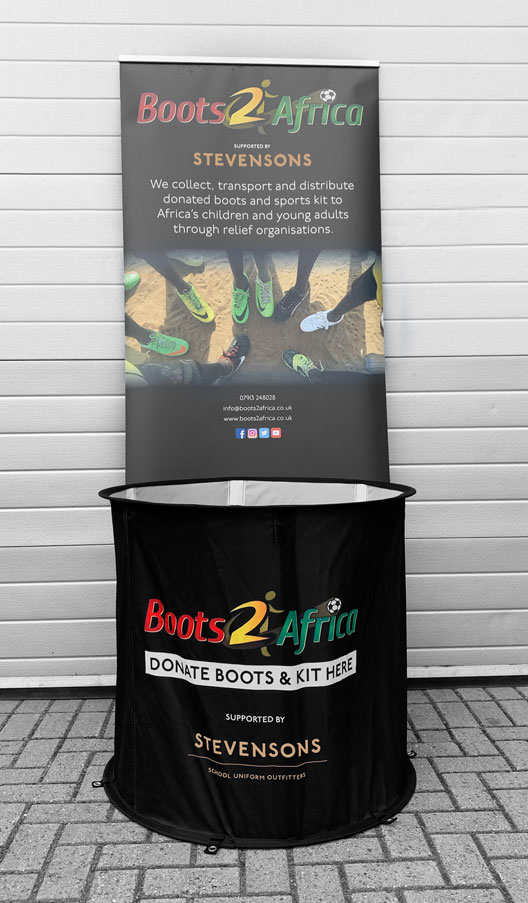 The specially designed donation bins and accompanying promotional banner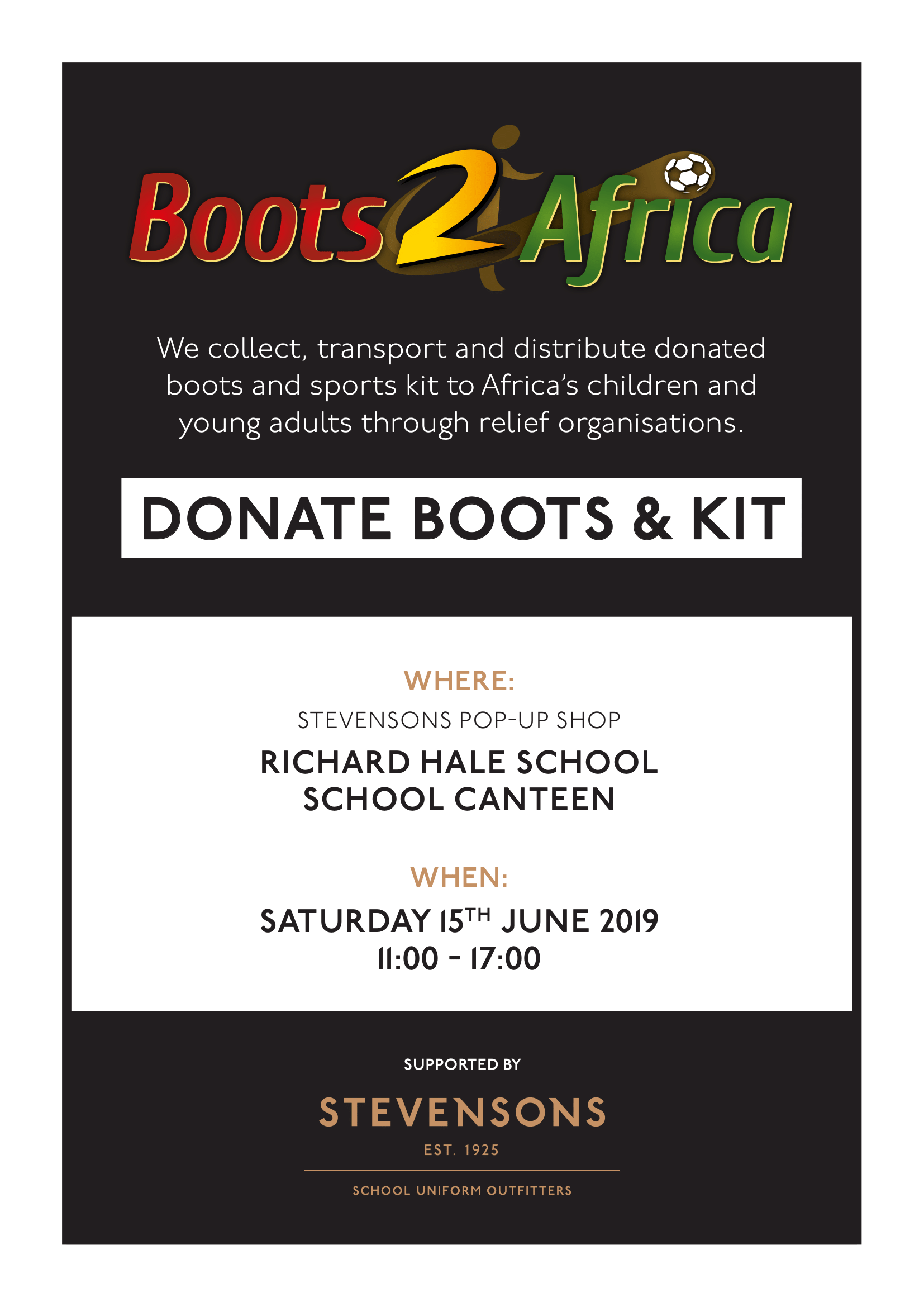 Promotional Poster sent to schools to advertise Pop-Up Shop donation pick-up
The first pick-up of redundant stock from Stevensons Hatfield Warehouse by Iain FInch, Founder of Boots2Africa
To help the charity reach their ambitious collection targets, Stevensons are looking to drive donation of pre-loved sports boots and sports kit in a number of ways:
COLLECTING DONATIONS AT POP-UP EVENTS
We have started taking specially designed donation bins and explanatory roller banners to pop-up shop events that our Events Team run on school premises annually, across the UK.
To try and maximise the scale of the donations at each event and raise general awareness of the charity itself our Account Management team liaise with their school contact and send them through a personalised A4 poster in PDF format to both print out to advertise the opportunity in school and to send notice to parents via email or display on their website or social media.
COLLECTING AT STEVENSONS STORES
Once the summer pop-up shop events are out of the way and the 'Back-to-School' rush has died down, the donation bins and banners are used by Stevensons branches in England and Scotland.
With a bit of pre-publicity, via local school partners, we aim to continue collecting donation yearly through the autumn and into the spring.
RE-DESIGNING THE BOOTS2AFRICA LOGO
One thing that is also helping recognition of the charity is the redesign that Stevensons initiated of the original 'Boots2Africa' logo. This new logo has improved visual impact through the incorporation of a 'player' image kicking a ball.
The new look has been progressively incorporated onto the charity's own website and then onto it's promotional material.
DONATING REDUNDANT STOCK OF SPORTSWEAR
Currently Stevensons have struggled to find a trusted organisation to take away unsaleable stock of sportswear. This stock is usually the result of schools changing the design of their kit or end of production run items. All of it is usable and normally unworn, but much of it bears the logo of a school in the UK and is therefore unsaleable and will not be accepted by most UK charities for re-sale.
Boots2Africa have no such issues, as the stock is collected from our Online Distribution Centre by one of the charity's other supporters for onward shipping to many and various known projects in Africa.
The first collection of redundant Stevensons sportswear and sports boots was picked up in January 2019 and has already been delivered to Africa. Further loads have been picked up regularly as stock becomes available and space is available to ship out further supplies.
---
"The issue of re-use and recycling is everyone's problem. We all need to do more, as individuals, as a company and as an industry. That's why we are working on a number of initiatives that will make a real difference, like our support for Boots2Africa"
- Mark Stevenson, Joint Managing Director, Stevensons
---