WORKING WITH THE MARINE CONSERVATION SOCIETY
Charging for carrier bags in Scotland is mandatory, due to legislation brought in by the Scottish Government.

However, no financial controls were put in place to ensure that any money raised from the sale of these bags is used to benefit the environment. How ridiculous is that!
We wanted to make sure that all the money we raised in 2018 from the sale of our high quality carrier bags would be spent wisely on environmental projects in Scotland. So, we decided to partner with the Marine Conservation Society in sponsoring one of their Beachwatch Events.
---
"In Scotland, the money we are forced to charge for carrier bags will all be given to a local environmental marine charity. It's the least we can do"
- John Stevenson, Joint Managing Director, Stevensons
---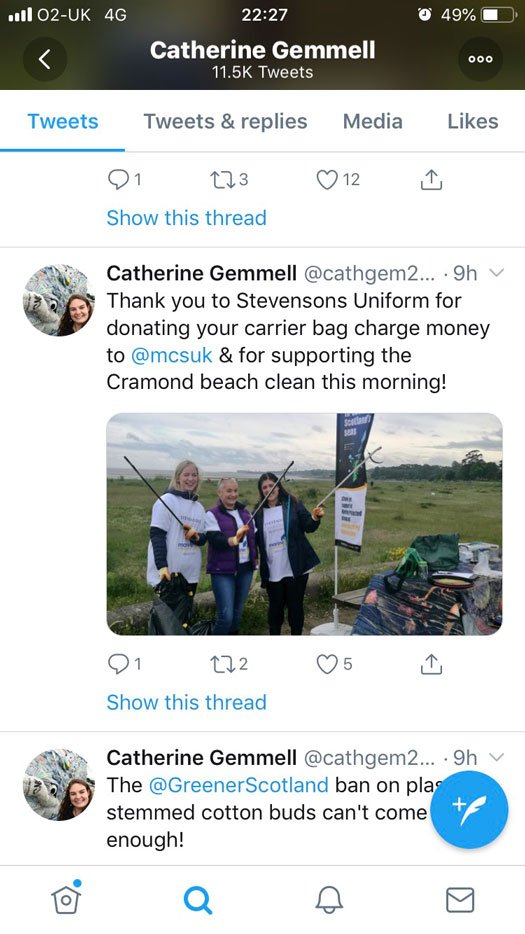 Thanks to Catherine Gemmel from the MCS for all her hard work organising the event.
On a Saturday afternoon in June 2019, members of the Stevenson's Retail Team - Head of Retail (Natalie Poulakas) and Christine Thorburn (Branch Manager Morningside) and Catriona Williams (Customer Service Supervisor) - joined forces with the Marine Conservation Society for their Beachwatch event on Cramond Beach, just outside Edinburgh.
In total, 65 local volunteers took to the beach for an energy sapping 3 hours of scouring the sand for detritus.
Even in that small amount of time the group managed to clear a whopping 201 kilos of litter from just one section of the beach. That included picking up 1,134 wet wipes from just 100m section of the beach.
It's dirty work, but someone's got to do it!
As the event was such a success, we've decided to donate all our enforced plastic carrier bag charges to the MCS next year as well, to help support their future events and keep our beaches clean and protected.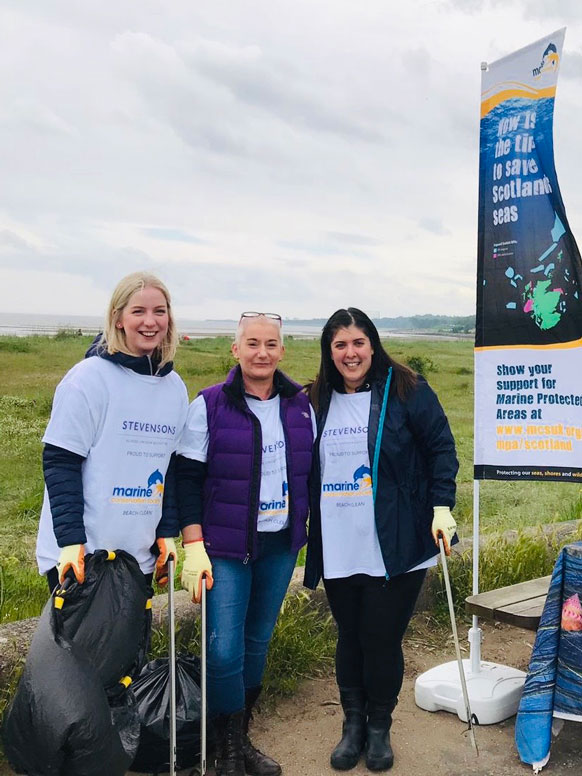 Catriona, Christine and Natalie show early enthusiasm
Natalie and Catriona get stuck into the big pick-up - and they're still smiling!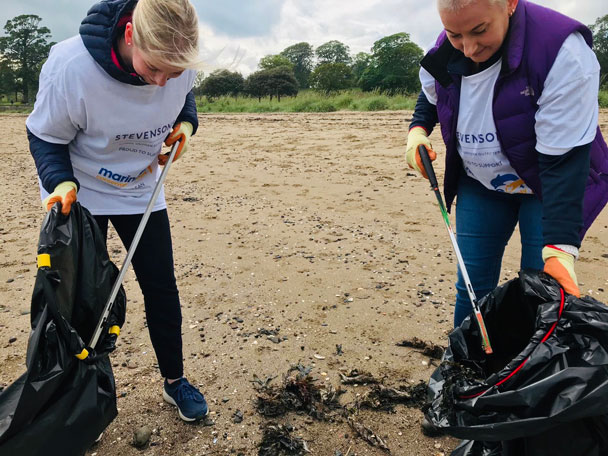 Catriona and Christine master the use of the provided safety equipment