FREE CONSULTATION
We offer a free, no obligation consultation to all schools that contact us, where we cover all aspects of supplying your school with your uniform or sportswear.
We'd love the opportunity to discuss your requirements in more detail and tell you more about ourselves and the services that we can provide.

Please drop us an enquiry email or telephone Gavin Cocksedge, our Business Development Manager, on 01727 815719.

We look forward to hearing from you.

7 SIMPLE STEPS TO A NEW UNIFORM...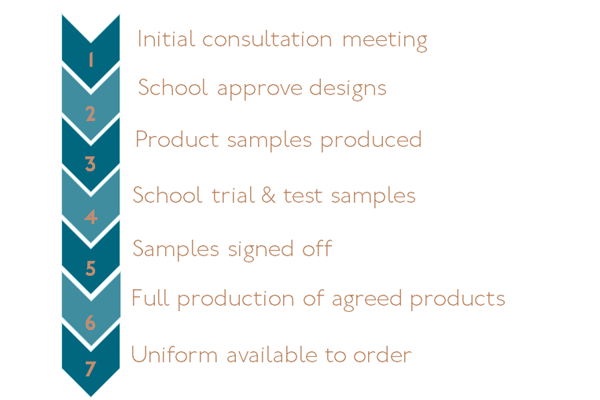 INITIAL MEETINGS
The initial meeting is designed to help Stevensons understand your school's specific needs and aspirations. This covers everything from garment quantities, budget and garment types. Based on our understanding of the schools requirements we are then able to make decisions regarding service options, potential designs and outlined costs.
ON-SITE PRESENTATION
After the initial meeting, we will provide you with an on-site presentation based on service levels and potential designs, as defined by your budget requirements. We will continue to work with your school until you're completely satisfied with the design elements of your school garments. Once you're happy, we will create samples for you to sign off.
SAMPLES
We will never create a product that you are not completely satisfied with, that's why the sampling stage is the most important part of our process. You will have the opportunity to view your garment, feel it and wear it, and make any changes to it before being signed off for production.
SIGNING OFF YOUR GARMENTS
Once you're completely happy with your new designs, we will agree a launch date for your new school uniform. In order to provide continuity and reduce unnecessary costs for you, we will purchase any existing uniform stock from your previous supplier and then allocate new stock of your uniform to one of our branches.
You will be impressed by the simplicity, speed and convenience of the process. Our aim is to provide you with complete satisfaction at every stage of the process, that's why over 550 schools use us as their number one supplier.
---
"Stevensons have helped us enormously through the changeover from another supplier. They took on board all the issues we had with regards improving quality and were extremely helpful in sourcing new items of uniform. They can be relied upon to respond promptly and efficiently."
- Sarah Buckle, Headmistress, Farnborough High School
---