THE STEVENSONS: UNIFORM'S FIRST FAMILY?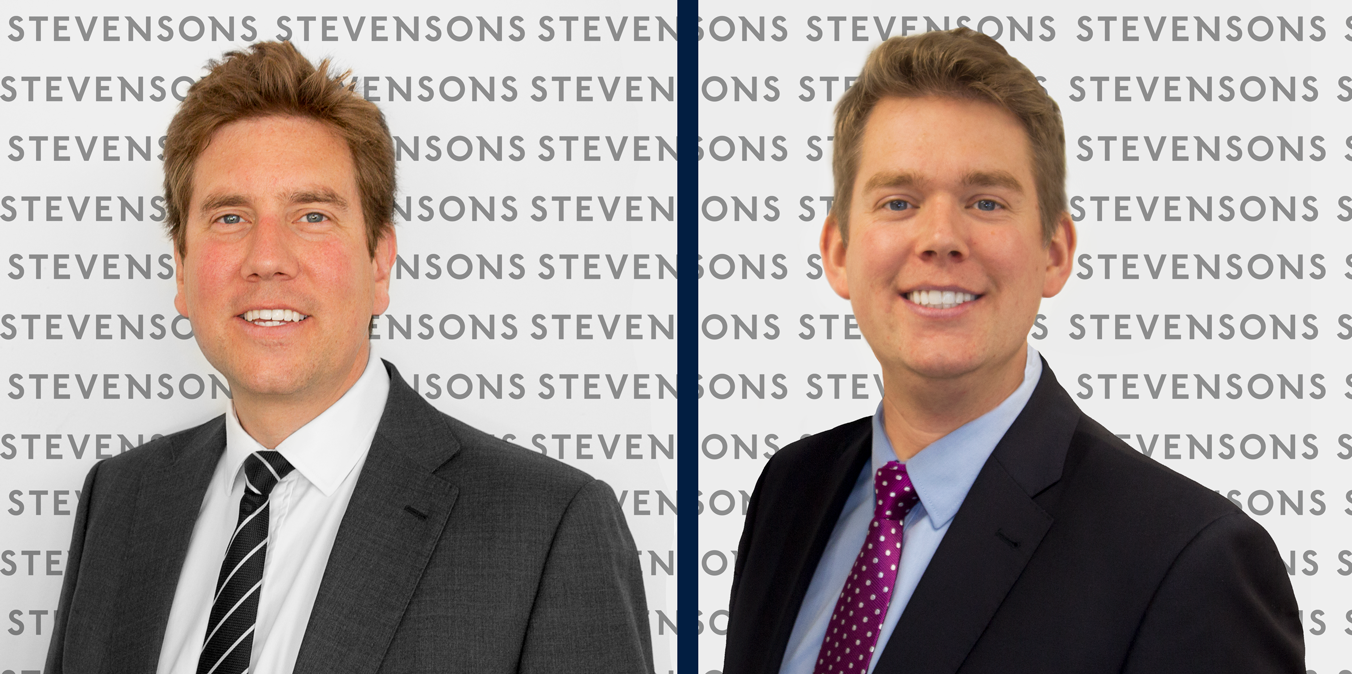 Mark & John Stevenson are the Joint CEO's
Laura Turner, Editor of Childrenswear Buyer Magazine, chats to the Stevenson brothers, who head up the largest independent schoolwear company in the country, to discover how they're shaking up the world of schoolwear retail.
WHAT'S THE HISTORY BEHIND STEVENSONS?
Mark Stevenson (MS): The company was established in St Albans in 1925 by our grandfather. We still have two stores on the same street to this day. Since that time the number of schools we work with has rocketed from 40, to now well over 550.
John Stevenson (JS): Mark and I are the current joint CEO's and the third generation of the family involved in running the company. Our sister, Mary, manages the finances, our brother-in-law heads up the new business area and my wife is the buying manager, so it really is a family affair.
WHAT WOULD YOU HIGHLIGHT AS THE COMPANY'S KEY MILESTONES?
MS: I guess the key moment has to be in the late 80's when Dad decided to focus purely on the schoolwear market, rather than fashion.
JS: More recently, it would be the launch of our first transactional website in 2012 or the birth of our own sportswear brand XXV (based on the roman numerals for the year the company was established – 1925) in 2014, which is now worn in more UK Independent Schools than any other sportswear brand.
MS: We are also proud to not only be the country's largest schoolwear retailer, but also to have won the Schoolwear Association's Specialist Retailer of the year award in 2018.
JS: It's been an incredible leap over the last few years, having recently acquired a number of other established family run schoolwear specialists including Aitken & Niven in Scotland, The Schoolwear Centre in Norwich, Lester Bowden in Epsom and Eton Sports in greater London.
WHAT SIZE IS THE OVERALL WORKFORCE NOW?
JS: There are now about 250 full-timers, but that massively swells when we take on another 350 seasonal temps to cope with the Back to School rush.
HOW MANY SHOPS DO YOU CURRENTLY HAVE IN YOUR PORTFOLIO?
MS: There are 16 high street stores since we opened our most recent branch in Harpenden at the end of February. We also manage another 13 on-campus shops on behalf of our school partners and run 240 plus pop-up selling events a year on school premises.
JS: Geographically, the stores stretch from Bournemouth, right the way up to Aberdeen, which is why we've had to re-structure and increase our store area management team to cope with the distances involved.
HOW DO ONLINE SALES COMPARE TO YOUR OTHER ROUTES TO MARKET?
JS: Since we relaunched our Stevensons website in 2016, online sales have really picked up and now account for almost £6m, that's around a quarter of the total. However, we have a new transactional site launching later in the spring selling an extended range of our XXV School Performance Sportswear, which I'm sure will push the figures up even further.
CAN YOU TELL ME MORE ABOUT YOUR ACQUISITIONS?
MS: Our first acquisition was in 2008 and since then we have done a further 14. Selling a business is never an easy decision, but ultimately the time comes, whatever the reason, to look at an exit. Our friendly, trusting and honest approach is well respected within the trade to handle such sensitive matters, especially when it comes to dealing with valued staff who might have been with the company for many years.
JS: Our more recent acquisitions have been more focussed in the sportswear market with Viper 10 selling specialist sports kit online to Universities and Sports Clubs. We have plans to develop this part of our business further by moving deeper into the club teamwear market.
HOW WAS BACK TO SCHOOL 2018?
MS: Considering the scale of change in the business, everything went remarkably smoothly. Our buying team has got great working relationships with all of our suppliers, which helped us cope with the steep increase in business and the significant number of new schools we are now partnered with.
JS: We took the decision last year to double the size of our Business Development Team, which looks after schools on a day-to-day basis. That helped strengthen our relationships with our existing partners, as well as having enough resources to deal with any 'surprises' from our new ones.
MS: Meanwhile, our store teams delivered a record 4,300 one-to-one customer appointments in the summer period, as well keeping our stores open later into the evenings and over weekends, so we could offer parents more flexible shopping and the personal service we are known for.
ARE THERE ANY IMPROVEMENTS YOU PLAN TO MAKE FOR BACK TO SCHOOL 2019?
MS: You've always got to push on if you want to stay ahead, so there are lots of things planned. There are a number of improvements on the website, including one-click 'repeat ordering' for existing customers. Also, simple 'next size up' buying, rather than having to search through the whole online school shop, or as some of our online competitors require, actually having to re-measure your kids to see how much they've grown – how 'intelligent' is that!
JS: Customers buying online will also have access to best-selling products that were previously only available in our branches.
HOW DOES DO YOU ENSURE YOU'RE MEETING CUSTOMERS' NEEDS?
MS: We know from our research that the vast majority of customers ideally want to be able to visit a store to buy schoolwear, particularly if their child is starting a new school. If they can't get to a physical store, our pop-up shops are a great second option. Online shopping is a brilliant modern-day backstop if there isn't a shop close-by. The web is really good for top-up shopping all-year-round particularly, if like ours, it's a well-designed interface that works efficiently with all devices. We provide shopping options in-store, via on campus shops, online and even over the phone.
JS: Parents also want you to take the risk out of shopping and to make it as easy as possible. We still operate our unique 120-day return policy, so if parents are organised and buy early in the summer they aren't penalised if their kids have a growth spurt. They can simply swap over the unused items for the 'next size up'. We also carefully review when extended opening hours and appointments are offered, to match as closely as possible to our customers' needs in the run up to the autumn term.
MS: Additionally, on a practical level, we are committed to providing uniforms to fit pupils of all sizes, even if that means making 'bespoke' sizes at no extra cost. We also keep in touch with general trends in fit, to make sure we offer products that children will want to wear and that schools and parents will find acceptable.
WHAT ARE YOUR VIEWS ON SUSTAINABILITY?
MS: The issue of re-use and recycling is everyone's problem. Even though we concentrate on providing products that are long-lasting – after all, school uniform has to be some of the hardest working types of clothing out there – we all need to do more, as individuals, as a company and as an industry. That's why we are working on a number of initiatives that will make a real difference, which we hope to launch before Back to School this year.
JS: On an environmental front, over the next six months we have also committed to replace all of our carrier bags and mailbags - which are currently 'bag-for-life' quality – with alternatives made of 100% recycled plastic, which itself is 100% recyclable. Also, in Scotland, the money we are forced to charge for carrier bags will all be given to a local environmental marine charity.
WHAT CHALLENGES ARE YOU CURRENTLY FACING AS A BUSINESS?
MS: As a 'bricks & clicks' company, I think the government seriously needs to consider some sort of online selling tax before even more high street stores are forced out of business. Online-only retailing is definitely a very cost-effective option, but if we want our high streets to prosper there needs to be some action, soon.
JS: A quite different challenge is the increasing issue of gender neutrality. Whatever your own personal view is, our role as a retailer is to adapt and to operate in a socially acceptable way that supports individual gender options and lessens any stigma. For Back to School 2019, all our new stock of own brand shirts and blouses will be displayed in de-gendered, less stereotyped coloured packaging. We are also working to adapt our website to offer a non-gender specific online ordering process for our online school shops.
WHAT ARE YOUR VIEWS ON THE CURRENT STATE OF THE SCHOOLWEAR SECTOR?
MS: Undoubtedly, there is consolidation within the schoolwear industry. The traditional bond between supplier and retailer is now being questioned with the actions of certain suppliers looking to redraw lines. When previously deciding where to buy a product from, a decision was made on price, quality and service, but now we are having to weigh up whether that supplier will be a competitor.
JS: As the majority of schoolwear retailers are family run businesses like us, it means that we can make decisions based on long term views and not short term decisions to appease shareholders. We believe the suppliers that hold the same values will continue to do well because at the end of the day our trade is synonymous with family values.
WHAT DO YOU FORESEE AS YOUR FUTURE IN THE INDUSTRY?
MS: We are here for the long-term and our expansion into the closely related sectors of providing sports kits for universities, clubs and teams through our recent acquisitions will hopefully offer us longer-term security and growth.
JS: Maybe even a fourth generation of Stevensons running the company.